With Offer Builder, one of the most important things to setup will be your Terms and Conditions. Adding the Terms and Conditions to your Generic Terms will allow you to automatically import the terms and conditions into any new or existing offers.
You can find the Generic Terms on the main Offer Builder page. Select Offer Builder from the My Apps page, then select Generic Terms in the top right.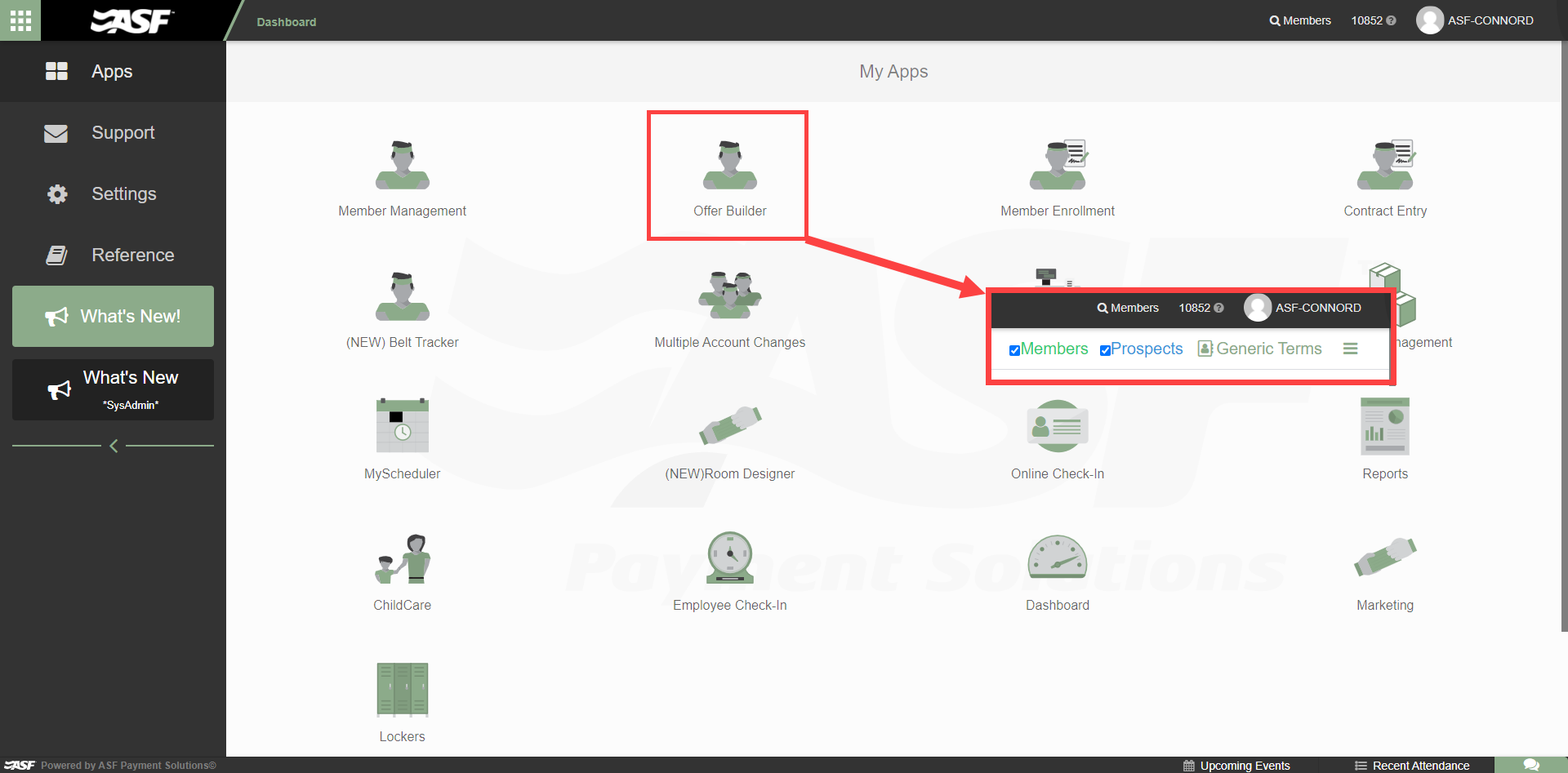 Navigating to Generic Terms
Once you've reached the Generic Terms, you will find three different tabs: Contract Terms, Payment Terms, and Preset Renewal.
Contract Terms: This tab is where you will add your Contract Terms. These are the main terms and conditions of your member and prospect offers. This will include information such as facility rules, waivers and release of liability, cancellation policies, etc.
Payment Terms: This tab is where you will add your Payment terms and conditions. These are terms and conditions specifically related to making payments on the membership. This can include information on late fees, EFT authorization, etc.
Preset Renewal: This tab is only used if you are going to set up any offers with a preset renewal. If so, then this is where you will add the terms and conditions for the renewal.
To add your terms and conditions to the Generic Terms:
Select Generic Terms
Click the + button, then give your Generic Terms a name and select one of the three types.
Finally, you can either manually type in the terms and conditions, or you can copy and paste them from either a Word document or a PDF file. Once the terms have been added, click Save.
Now, you will be able to add the uploaded terms and conditions to any new or existing offers. See Creating Member Offers for more information on adding terms and conditions to offers.
Editing Existing Generic Terms
You can edit existing terms and conditions if needed by simply opening the Generic Terms window, navigating to the terms, and selecting them. This allows you to change the name, type, and the actual terms and conditions.
Note: Changes made to terms and conditions in the Generic Terms WILL NOT be applied to any offers that the terms are already associated with. To ensure offers are updated with the correct terms and conditions, you will need to re-add the terms and conditions to any offers needed.
Further Reading:
Check out these articles to learn more about Offer Builder and Member Enrollment!