The MyPOS application is used in conjunction with with Inventory Management. In order to sell items in MyPOS, you will need to be sure your Inventory Management is completely set up with the items you plan to sell (see this section).
Inventory Management and MyPOS come with their own preferences and settings that will change how the applications operate. These can be accessed by selecting Settings from the My Apps page, then Client Preferences, then select the Point of Sale tab.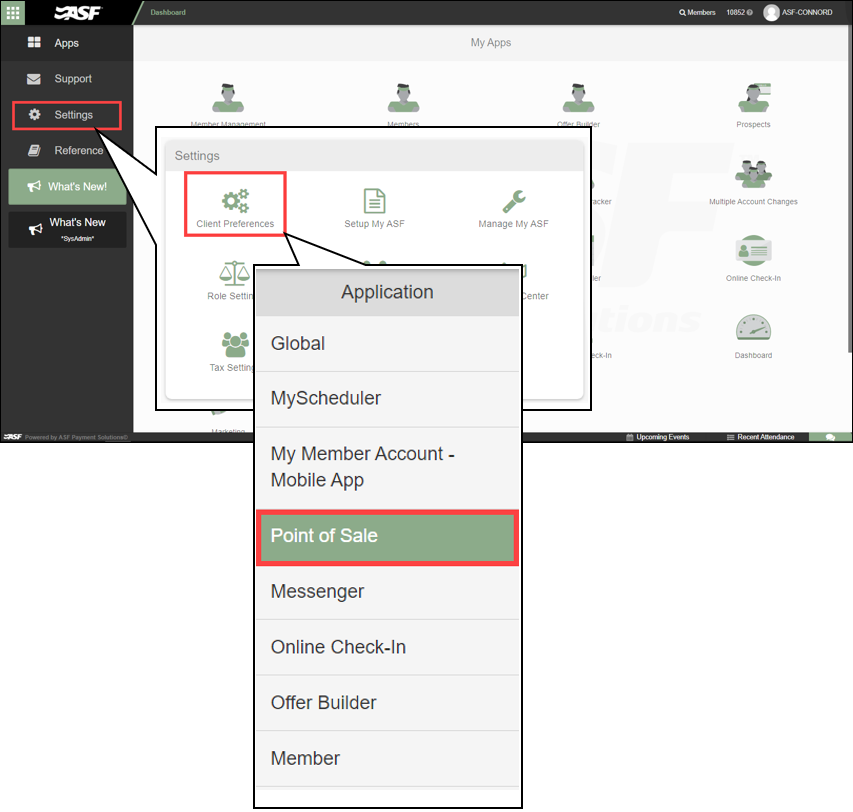 Navigating to MyPOS Client Preferences
Reason Codes
Reason codes are required whenever you are applying a discount or an override to items in a transaction. They will be used to track why discounts and overrides were applied.
To add a new reason code:
First select either the Discount tab or the Override tab depending on the reason code you are adding
Click the Add Discount/Add Override button and give the code a name. This can be whatever is best for you to know when to use the code
Make sure the Active toggle is set to True, then click the Save icon
You will see the reason code appear in the list. If you need to edit an existing reason code, there is no specific Edit button. Just find the reason code you need to edit, change the name or the Active toggle, then click the Save icon.

Cash Drawers
The Cash Drawers tab will be where you can create new cash drawers and inactivate existing cash drawers. If you are using MyPOS, you MUST have at least one cash drawer created, even if you are not using any kind of physical cash drawer. To add a new cash drawer:
Click the + icon in the top right
Give you cash drawer a name, set the status to Active and click the Save icon
You will see the cash drawer appear in the list. If you need to edit an existing cash drawer, there is no specific Edit button. Just find the cash drawer you need to edit, change the name or the status, then click the Save icon.
Note
In order to inactivate a cash drawer, it MUST be set to Closed

Adding a New Cash Drawer
Receipt
The Receipt tab will allow you to build in some presets for all of your receipts, both printed and emailed. If you do not wish to put any custom information on your receipts, then you may be able to skip this tab.
Header Image: This will be an image that appears on every receipt. Generally, this will be your club logo, but it can be any image you like. If your image is too large, it may display incorrectly on your receipts.
From Email Address: For emailed receipts, if the member replies to the email, their reply will automatically be sent to this email address
Receipt Text: This is for any additional text that you want to add to your receipts. This can be a return policy or just a simple "Thanks for your purchase!".
Once these fields are filled in, click the Save button.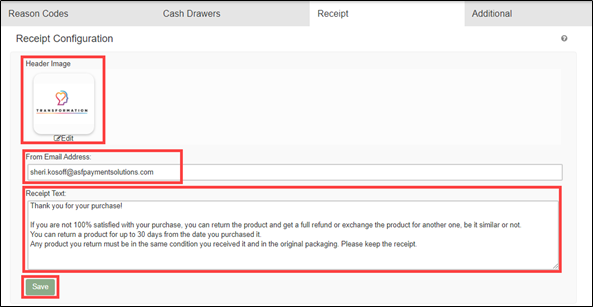 Receipt Configuration
Preferences
The Preferences tab has some additional options that you can use for MyPOS:
ASF Processes Club Account Charges: If you have members with EFT information on file, this will allow you to use that same EFT information for a MyPOS purchase. Note: ASF generally DOES NOT recommend using this option. ASF processes Club Account charges within 24-48 hours, so you will not get an immediate rejection
Use Physical Gift Cards: This only applies if you sell gift cards. If you have physical gift cards, this MUST be turned on
Allow negative balance on prepay: If you are using the Prepay feature of MyPOS, then this setting will allow your members' prepay balances to be negative values
Allow pre-payment of recurring add-ons: Allows you to generate future add-on payments to be paid by the member. See this article for more information on paying for add-ons through MyPOS
After making any changes, be sure to click the Save button

MyPOS Preferences Tab
Further reading:
Check out these articles to learn more about MyPOS and Inventory Management!