Once everything has been completed in terms of setting up the inventory, the next step will be to add the items that will be sold. Navigate to the main Inventory Management screen. You should see the Item Types you've created on the left.
To start adding a new inventory item:
First, be sure you have the correct Item Type selected from the list on the left. This will ensure the new item is added to the correct Item Type
Next, click the Add New Item button in the top right. This will open the Item Settings for the new item
Adding a New Item
The Item Settings will determine the details for the item, such as how much the item costs and who can purchase it. Use the image and table below to determine how each option works.
Item Type: This shows the current Item Type the item will be added to. This can be changed by clicking on the name, then selecting the new Item Type from the dropdown menu
Retail Price: This is how much the item costs to purchase
Item Cost: Optional - This is how much the item costs YOU to purchase from the vendor. If not being used, this can be set to 0
Item is Available For: These options are used to determine who can purchase this item. Member, Prospect, Anonymous, and Employee all make the item available for those respective groups. Member Online is ONLY used for selling Scheduler session items through ASF's My Member Account Mobile App. POS to Contract Entry will allow you to add the item to a membership
Item Name: This is just the name of the item and can be whatever you need it to be
SKU: This is the SKU for the item. If you are using a barcode scanner to ring up items, this must be EXACTLY the same as the number on the barcode of the item
Item Description: This is the description of the item and can be whatever you need it to be
Tax Type: Optional – This is where you can select the tax type that needs to be applied to this item when it is being sold
Reorder Point and Quantity: Optional – These are indicators to help you know when to reorder inventory (Reorder Point) and how much to reorder (Reorder Quantity). ASF HIGHLY recommends checking your All Inventory report regularly to keep up on which items need to be reordered
Item Status: This indicates whether the item is Active or Inactive
Choose File: Optional - This is used for adding an image to the item.
Item Attributes: Optional – If you have associated attributes to the item type, then you can set those here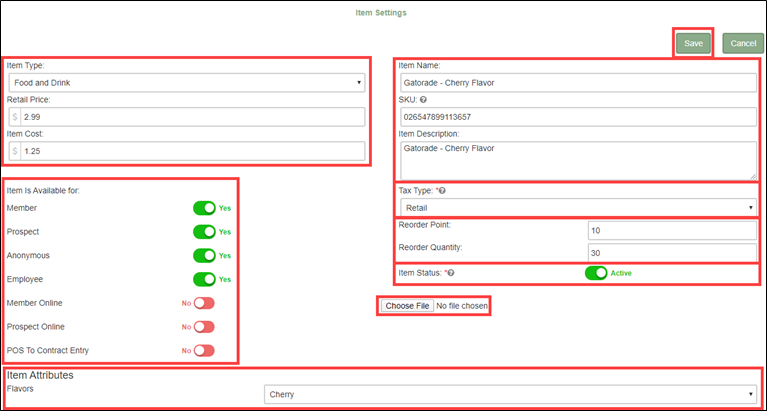 Item Settings
Once you have the necessary information added, click the Save button in the top right.
Specific Item Settings
Some items will have specific ways to set up their settings. For example, items such as Enrollment Fees and Scheduler items that drop sessions (Personal Training) will be slightly different than the average inventory item.
Specific Item Settings - Scheduler Bucket Items
Items that are being added to an Item Type that is marked as Scheduler_Bucket will have additional required settings that will need to be filled out. These will be found under the Item Attributes.

Scheduler Bucket Item Settings
Session Bucket Quantity: This is the number of sessions that will be added to the member's account after purchasing one of this item
Days to Expire: This is the number of days the member has from purchasing the item until those sessions are removed from their account. If they do not use the sessions before this, they will permanently lose them.
Specific Item Settings - Membership Items
Membership items will be anything that relates to a membership, such as an enrollment/sign up fee, a First Month's dues item, or an Add-on. These items may have some variations from your average inventory item.
Enrollment Fees: Generally, Enrollment Fees will only be paid for during enrollment, so we don't always need these items to be available for sale in a POS transaction. For these items, under Item Is Available For, you may only need to use the POS to Contract Entry toggle in order to add the enrollment fee to offers. If you expect the need to sell this item outside of enrollment for any reason, be sure to turn on any additional toggles depending on what you need.

Specific Item Settings - Add-Ons
Add-Ons: Add-ons can be one of two types: ones that add scheduler sessions and ones that do not. For add-ons that are meant to add sessions to an account, such as a Personal Training Add-on, you will need to add those items to an Item Type that was set up as Scheduler_Bucket.
For add-ons that are NOT meant to add sessions, such as a Club Enhancement Fee, those will generally be added to an Item Type that was set up as General_Non_Inventoried.
In most cases for all add-ons, you should not need ANY of the toggles under Item Is Available For turned on since they will not be sold as regular POS items during a transaction. ASF also recommends including the word "Add-on" in the item name for easy identification.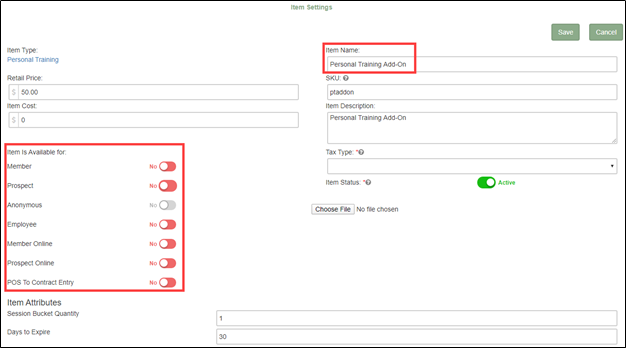 Specific Item Settings - Add-ons