A Prospect is an individual that is interested in your facility, but isn't sure if they are ready to commit to a full membership yet. Signing someone up as a Prospect is a chance to show them the benefits of your facility. Here, we are going to look at how to create a new Prospect offer. This article will NOT cover anything to do with the Legacy Prospects application.
First, we will need to make sure we have our Prospect waiver uploaded to the Generic Terms of Offer Builder. Be sure to review how Generic Terms work here if needed. The waiver is going to be the terms and conditions that you normally have prospective members sign before becoming a prospect with your facility.
Once you have your Generic Terms ready, we can start making a Prospect offer. Click the + Offer button in the top left of the Offer Builder screen and select Prospect.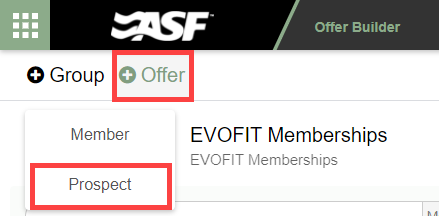 New Prospect Offer Button
This will begin the process of creating a new Prospect offer. The process will be very similar to creating a Member offer, so we will just focus on the different fields.
First, in the Offer Details section, you will have two additional fields to fill in: Default Number of Visits and Allow Access.
Default Number of Visits: This is the maximum number of times that prospects signed up on this offer will be able to check in to your facility. If you want to give prospects an unlimited number of visits, set this to 0.
Allow Access: This option determines if prospects will be allowed access to your facility. In almost all cases, this will be set to Access.
Once the Offer Details have been set up, you will want to fill in the Long Description and the Offer Terms and Conditions. Remember, if you set up your Prospect waiver in the Generic Terms, you will be able to simply import them into the Terms and Conditions.
Import Prospect Waivers from Generic Terms
You'll notice that Prospect offers do not have Payment Terms. This is because there are no recurring charges for Prospects. That means no Payment Terms and no Add-ons can be added to Prospect offers. We can still add up front charges in the form of Point of Sale Items in the Items section.
Outside of these differences, Prospect offers will be set up the same way as Member offers. If you need more information on the basics of creating offers in general, be sure to check out this article.
Further Reading:
Check out these articles to learn more about Offer Builder and Member Enrollment!