In some cases you may need to edit certain items. In general, this will be consistent across all items, however General_Inventoried items will have some additional settings that can be adjusted.
To edit an item:
Navigate to the Item Type that item is in. If needed, you can use the Search bar at the top of the page to search for a specific item
Click on the item icon in the list. This will switch to editing that item.
If the item is NOT a General_Inventoried item, you will open to the Item Settings page, which is the same page you see when adding a new item.
Here you can make any changes to the item settings, such as changing the retail price, who the item is available for, or the item name. Once you've made your changes, be sure to click the Save button in the top right.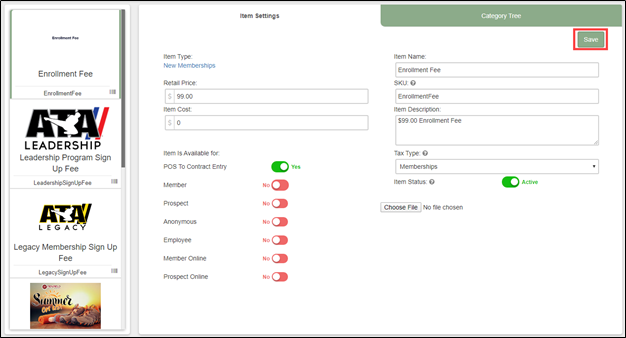 Category Tree
The tab next to the Item Settings is the Category Tree. This is a tool that will allow you to associate an item to a category without going into the Category section of Inventory Setup. To use the Category Tree:
Select the Category Tree tab. This will show your active categories and child categories
If this item is associated with a category, that category will be colored, bolded, underlined, and italicized. To add this item to a category, simply select the category from the list
To unassign the item from a category, simply click the category it is currently assigned to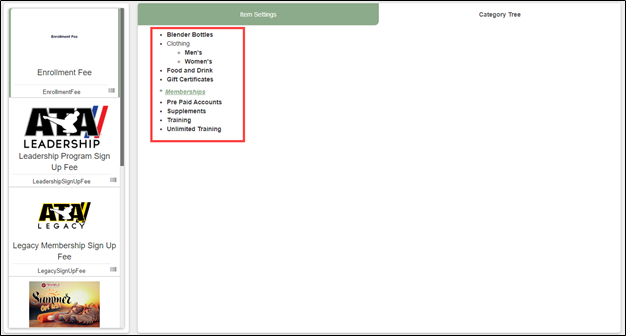 Inventory and Inventory Adjustments
For General_Inventoried items, you will have two additional tabs across the top: Inventory and Inventory Adjustments. These are used for making changes to the quantities of your General_Inventoried items.
The Inventory tab will show your purchase history. Anytime you complete a purchase order, some of that information will show here in the section titled Purchase History. You can also do a manual purchase order through here without needing to do a full purchase order. To do this:
The Per Item Cost field will be pre-filled in if you set the Item Cost in the Item Settings. Fill in the Per Item Shipping Cost if needed
Next, enter the Quantity Received and select the Vendor from the dropdown menu
Once everything is filled, click the Save button

The Inventory Adjustments tab will be used for making any corrections to your inventory counts. If there was a miscount or something was entered incorrectly, this can be used to fix the quantity. To do this:
Set the correct quantity in the New Count This is going to override the Current Count
Enter a note. This will be the reason for making the adjustment
Click Save