Online Check-In is used for staffed member check in to track members as they are entering the facility and alerting staff to member issues. There are multiple options for how members can check in:
Manual check in using the in app member search
Automatic check in using a reader device that reads from:

Barcode on printed membership cards
Barcode on ASF My Member Mobile App
Barcode or QR code on ASF Mobile App
Online Check-In can also be used to clock employees in and out for employee time management.
---
Manual Check In
To manually check members into the club, start by opening the Online Check-In app: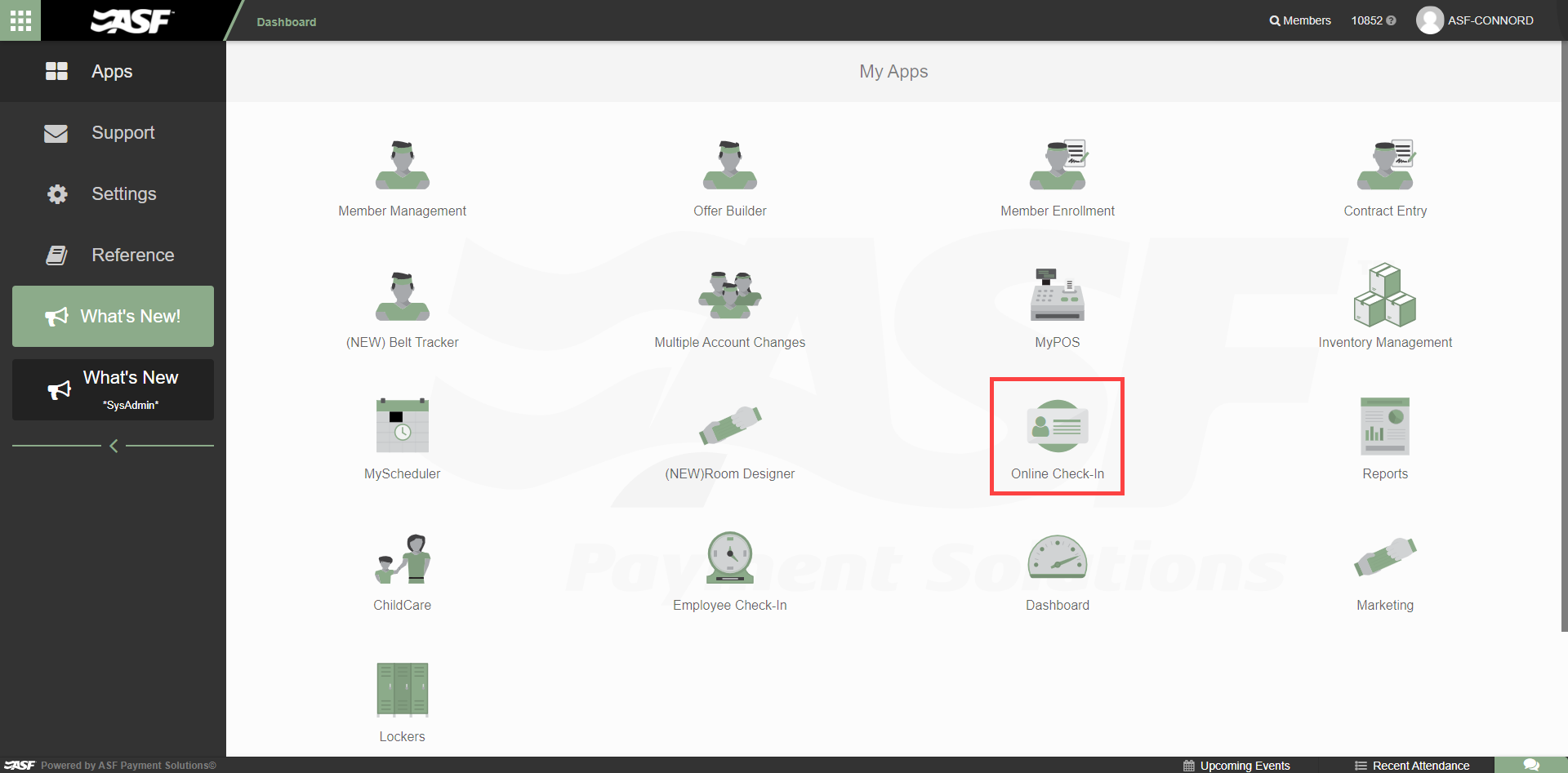 Searching for the member using one or a combination of:
Account Number - searches against member account number, with or without the cardholder sequence number, and alternate ID (typically used to represent member's associated barcode number)
Phone Number - searches against member phone numbers, including home, mobile, and work
First Name
Last Name
Use the checkbox options to additional target member searches

Members
Prospects
Employees
Active Only
Non Expired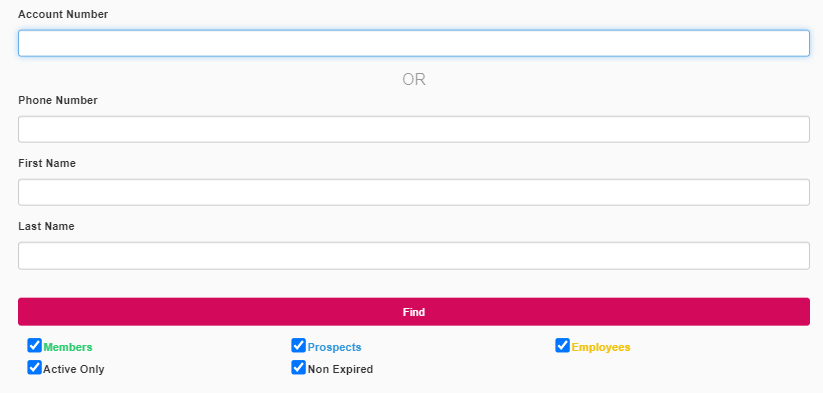 Once you find and select the member/prospect, they will be checked in. It is important to note that members and prospects will ALWAYS be marked as checked in even if there is any kind of issue on their account.
Once a member/prospect is checked in, you will be able to find their entry in the Recent Check-ins section, as well as some additional details at the bottom of the page.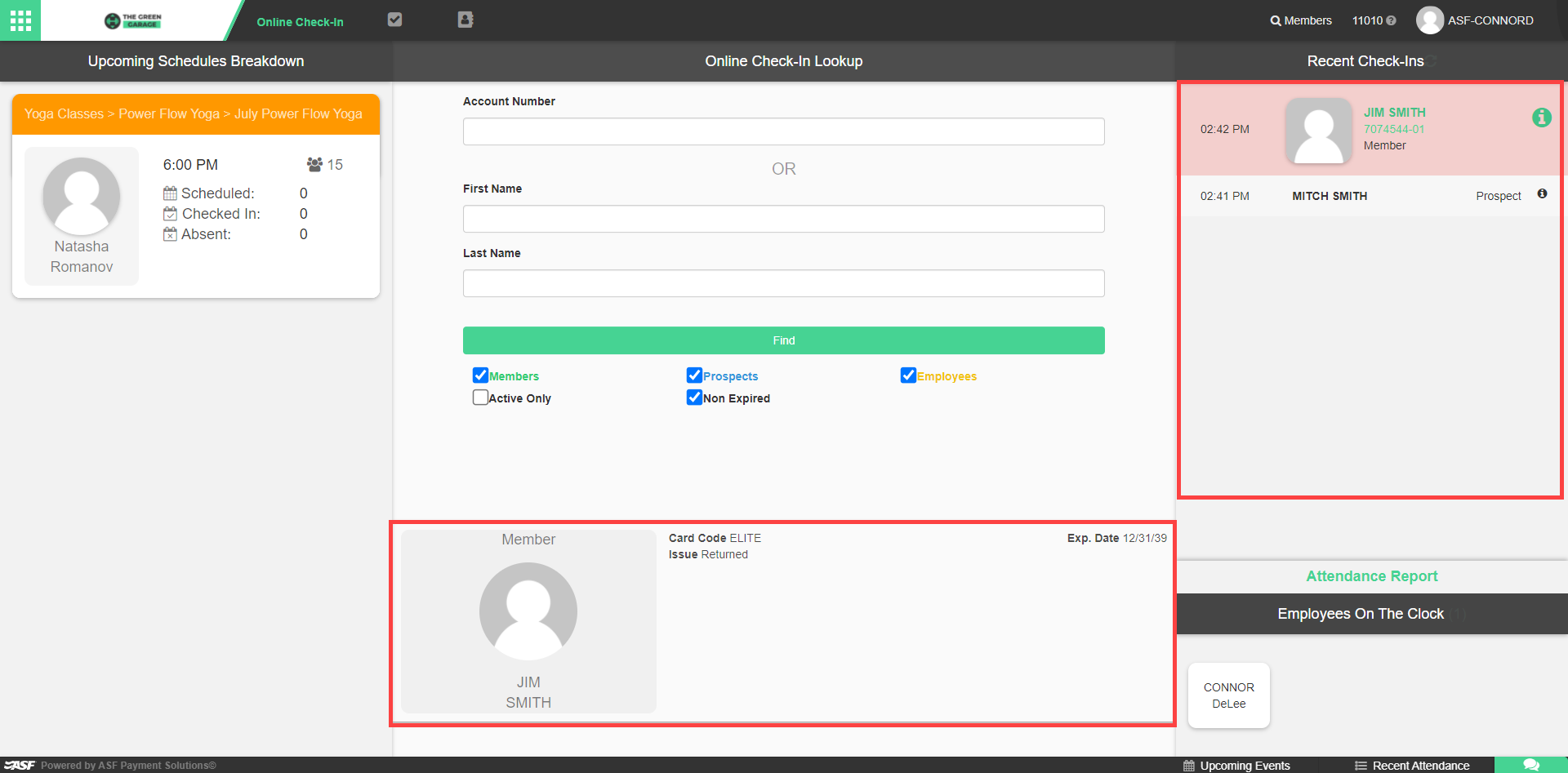 Check-in Notifications
Here are some notification flags to look out for. If you have a manned check-in system, the club employee monitoring check-ins should keep an eye out for these notifications:
Problem Attendance: A red notification with a ! icon. This means there is an issue with the account, such as past dues, an inactive or returned account, etc. Returned accounts will indicate if they have already been sent to a 3rd-party collections agency
Member Not Found: A red notification with a hand icon. This means that the member you searched for either does not exist in the club or is inactive. Be sure you have entered the correct information
Past Due (with Grace Period): A yellow notification with a ! icon. If you have set a grace period, any members that check in that are past due but still within the grace period will generate this notification
Automatic Check-in
If you are using membership cards and some form of card reader for check in, there is much less that needs to be done. You do not even need to be within the Online Check-in application. However, you MUST have My Club Business open and logged in on the computer that the card reader is attached to in order for the check in to feed into Online Check-in.
Once a member or prospect comes into the facility, they will need to scan their card in order to log their attendance.
Attendance Report
If you need quick access to your Attendance report, you can use the Attendance Report link found in the Recent Check-ins section. This will immediately take you into the Attendance - All report.