Pricing Adjustments
When signing up new members in Member Enrollment, certain adjustments can be applied to change the pricing of the membership. These can be used to change both the up front costs and the recurring costs. Adjustments should be applied whenever you need to make on the fly adjustments while signing up members.
Adjustments are made in the Summary section of Member Enrollment.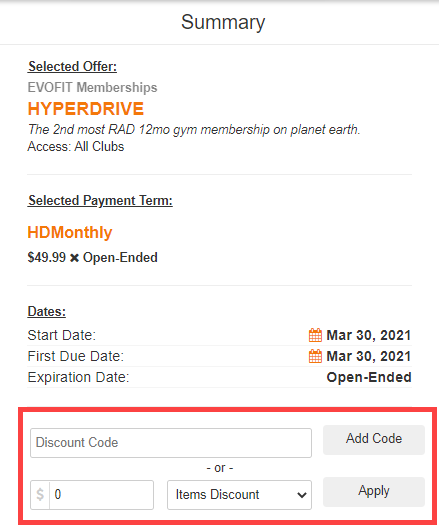 The first form of adjustment is the Discount Code. Discount Codes that have been set up in Offer Builder should be applied here, which will apply the valid discount that was set up. Enter the code and select Add Code.
Below that are fields used for manually adjusting the price of the membership. This should be used to adjust the up front and recurring costs on the fly as you are signing up the member. To add a manual adjustment:
Select the adjustment type:

Percentage Discount: Will deduct a percent amount from both the up front costs and the recurring costs
Items Discount: Will deduct a dollar amount from ONLY any added POS items
Dues Adjustment: Used to either increase or decrease the up front costs and the recurring costs by a dollar amount

Enter the amount of the adjustment
Click Apply

Date Adjustments
Dates for memberships can also be adjusted during sign up. This should be done in cases where the Start Date, First Due Date, and/or Expiration Date need to be changed from the default e.g. adjusting the Expiration date to either add or remove days from the membership.
These functions are found under Dates. Any of the dates can be changed by selecting the calendar icon and choosing a new date. If the membership is Open End, then there will be no Expiration Date to change.